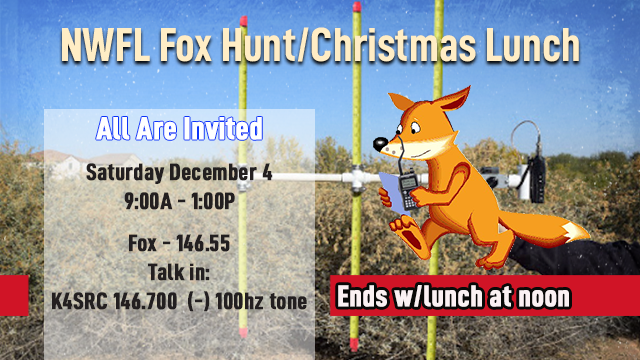 We are pleased to announce that we will be hosting a fox hunt in Northwest Florida! This event will also serve as our area wide Christmas luncheon. This is a great event for the whole family and a great way to introduce kids to ham radio!
We need to get a headcount of who will be participating in the fox hunt. Please fill out this online form if you plan to join in on the fun! Signup for the luncheon is now closed as we had to order food.
Event Details (more to be added soon)
Fox will begin transmitting at 9:00A CST Saturday December 4

15-30 second transmission at 5-7 minute intervals

Fox will be located on 146.55 simplex
Talk-in/coordination frequency is the K4SRC 146.700 (-) 100hz tone repeater

An announcement will be made on the repeater between 10:30-11:00AM the location of the fox for those that haven't found it. This will depend on how many have already arrived and how many are still hunting. Our goal is to start lunch around 11:15-11:30AM.

The location of the fox will also be where our area wide Christmas luncheon is

Lunch will begin at noon central – Sonny's BBQ
A donation box will be available to help cover the cost of the food, etc. The event is not backed by any club, Arc-W4CPD is sponsoring the event.

Boundaries

Northern boundary is Quintette Road from HWY 29 with a straight line across to HWY 87
Eastern boundary is Highway 87/Highway 89
Western boundary is HWY 29 down to HWY 98
Southern boundary is HWY 98
Print this map to mark your bearings
What is a fox hunt?
A fox hunt is where individuals (or teams) attempt to find a hidden transmitter using handheld directional antennas within a designated area. Searches can be done on foot or in a vehicle. Fox hunts are not only just fun but a great learning activity to find rogue transmitters or those causing interference on a frequency. This is a fantastic activity to get the whole family in on.
What equipment do I need?
Directional 2m antenna

You can build your own tape measure antenna
Purchase a commercially available 2m yagi antenna such as one from Arrow or MFJ

An HT with an SWR meter
Step Attenuator (optional)
---
Please remember, obey all laws while hunting (aka don't go on private property, etc.) If people ask what you're doing, be prepared to tell them about ham radio and what the purpose of this exercise is (search & rescue as well as finding rogue transmitters). The Sherriff's Office in Escambia and Santa Rosa Counties have been notified of the activity.
---
Great video showing how to find a fox.